At cheaper cams, you access private camgirl shows by dialing a number. This is a premium number. so you will be charged per minute, and depending on your phone plan, this charge will be immediately deducted from your phone credit. Or the charges will be included with your monthly phone bill.
I have always liked sites that go the extra mile to make webcam sex easier and more accessible for those without a credit card. And in my experience, paying with your phone is an easy and well-functioning method. But unfortunately the other pay by phone sites we have tested always lacked in the content department. There just weren't too many webcam models online, and the categories of kinky fetishes to choose from were very limited. Let's see if Cheapercams has the same flaws or if it is a better choice
THE BEST

PAY BY PHONE CAM SEX SITE?
If you don't feel like reading the whole review then I can say shortly Cheapercams.com is the first pay by phone webcam sex site we've seen that is as complete as the established bigger brands in the adult cam sex business. Great Choice in webcam models, Free Preview Chats, and Extensive cam girl info. Webcam models in all price ranges, with great functionality on mobile phones, and to all that, it adds multiple payment options.
If that's all you want to know, you can visit cheapercams.com right away to start looking for sexy shows. Or you can continue reading if you want to know the in-depth details about my experience with cheapercams.com
PLENTY OF MODELS ONLINE
I'm happy to say that in comparison to other pay by phone webcam sex sites, Cheapercams offer a huge amount of cam girls and guys, couples, and transgender to choose from. If we compare it, for example, to webcamsex4u.co.uk, which I have tested recently. You will see that, on average, there are about 500 more models online. It's great to finally see a pay-by-phone-site that offers the same choice as premium brands like Livejasmin & Imlive
PRIVATE CAM GIRL PRICING
The pricing for the cam girls on average lies somewhere between $1.59 to $1.99 per minute for private 1on1 cam sex with cam2cam function (option to turn on your own webcam), But there are some cheaper cam girls to be found starting as low as $0.89 per minute. Which is enough for cheaper cams to make it to our front page's cheapest cam sex sites list. And what's awesome, it is very easy to find those cheaper girls because they have a very useful tool. The price selection filter
PRICE SELECTION FILTER
What I like about Cheapercams is their useful price selection filter. It's a tool that makes it very easy to filter all webcam models by price range. You can choose to have only the most affordable cam girls displayed. And combined with the other filters it took me only a few minutes to find a girl who was exactly to my taste, who didn't ask a fortune for a private show, and of course with pay by phone access.
5 MINUTES FREE WITH ANY CAM GIRL
For new visitors, Cheapercams has a nice offer, 5 minutes of free webcam sex with any webcam model of your liking. This offer is only for those who register an account that is free. The pay by phone option can be used anonymously without registering an account, but this won't give you five free minutes.
UPDATE 2022: The five minutes-free offer, unfortunately, has been removed. You can still get free credits, but they come on top of packages you need to pay for.
FREE WEBCAM SEX SHOWS
If you aren't necessarily looking for private 1-on-1 live sex shows, you will also find cam girls who give free group shows. This type of cam sex show is getting more popular every day. You might be familiar with it. It's a show with multiple viewers at once. And the cam girl depends on tips from their viewers. If she receives enough tips, she will start the show.
So it doesn't matter who gives the tips as long as the performer is satisfied with the number of credits being donated, she will allow anyone to watch. We prefer the intimacy of private cam shows. But a group show is a welcome, more economical option.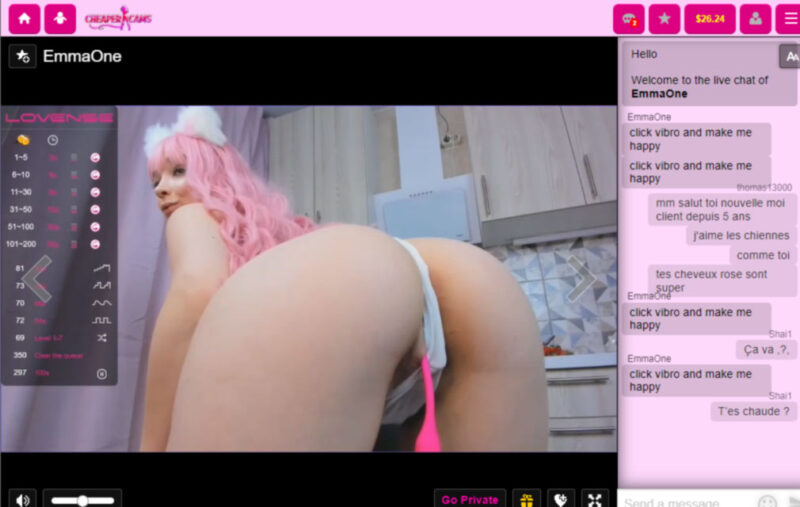 OTHER PAYMENT METHODS
Of course, just because paying by phone is an option doesn't mean that you can't buy credits with other payment methods. You can still use the good old credit card if you wish to. And sometimes, the more conventional payment methods are cheaper because you can buy large quantities of credits at once, giving you a nice discount.
BITCOIN AND OTHER CRYPTOCURRENCIES
Besides the pay by phone option as an alternative to a credit card (which of course, can also be used), cheapercams.com also accepts bitcoin to pay for private cam shows. And according to them, they are in the progress of adding more and more crypto coins to their payment system
PAYPAL CAM SEX
If paying by phone and cryptocurrencies are both not the alternative methods you are looking for, then the cam girls at cheaper cams will also accept Paypal to access their live shows. This is great since Paypal is a very popular payment method all over the world, it's good to see that more and more webcam sex sites accept PayPal.
VIRTUAL REALITY WEBCAM SEX
In 2023 Cheapercams introduced virtual reality webcam sex, and those of you who are lucky enough to have a VR Set should definitely give it a try. It brings webcam sex to another level. You no longer watch the webcam model on your screen but are in the room with her. Once you have masturbated with a girl in virtual reality, you will probably never go back to regular webcam sex
WHAT I DIDN'T LIKE
There are an insane amount of french people in the chatrooms during the free chats. And no, I have nothing against the french it's just that I don't speak french, and sometimes messing about in the public chat with other viewers and de cam model together is part of the fun. Luckily most models speak very good English, and there's always to option to take a girl in private
FINAL THOUGHTS
I'm very impressed with cheapercams.com, and it's nice to see there is finally a complete webcam sex site that offers pay by phone access and offers content that can compete with the big, established live entertainment sites. All in all, Cheapercams.com is s site you should definitely try, even if only for the five free minutes of webcam sex. But with their massive choice of camgirls and convenient payment options, you will come back for more!