What most people don't know is that you can pay with your phone for items and services. It's a payment option, not often seen on webcam sex sites, or on any site for that matter, You don't need anything special for it. No apps to install no accounts at a digital wallet provider. The only thing you need is a phone that can make phone calls, and that can call premium numbers.
In our pay by phone sex cam site section you can find some of the best webcam sex sites that offer pay by phone. You can either directly go there and choose a site. Or you can keep on reading and we will explain in depth how the pay by phone option works.
Premium phone numbers
Paying with your phone is extremely easy and fast. And it's a great option for those who do not have a credit card or who do not want to use their credit card for adult services. Paying by phone works by calling a premium phone number. Premium phone numbers are numbers with a higher cost per minute than regular phone numbers. Sometimes you see it when calling a help desk or service line you see something like ($0.80/minute) this extra amount per minute is what is used to pay for the service.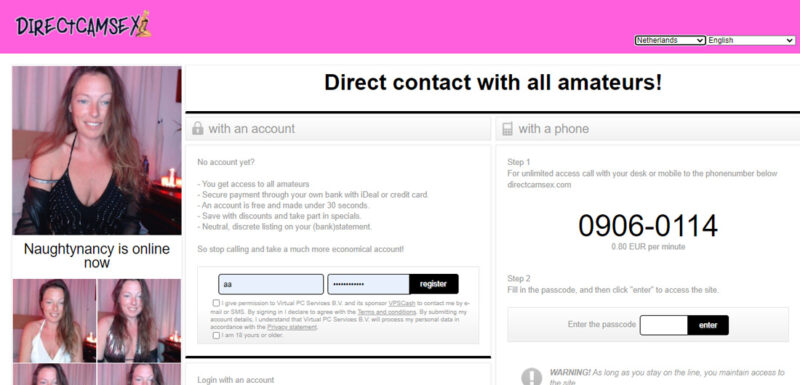 And on webcam sex sites it works in the same way. When you want to have access to a camgirl on a webcam sex site and you choose the pay by phone option you will see a premium phone number and the cost per minute of that number. You simply call the number. On your phone, you will be given a personal code. Enter this code on the webcam site and you will have access to the girl's or guy's webcam chat. And you will keep having access as long as you keep your phone connected to the premium number.
Availability and pricing in different countries
Paying by phone is usually not available in all countries. And every country will have a different phone number. So It is important to select the right country when you want to pay by phone so that you are presented with the right phone number.
Also keeping mind that the cost per minute can vary from country to country so pay attention to the price per minute for the phone number. This is usually shown right after the phone number