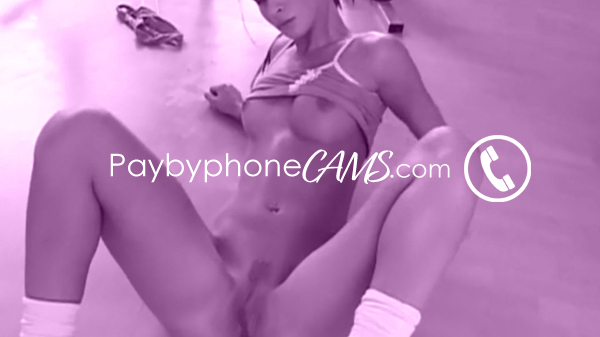 PAY BY PHONE CAM SEX
We have had our pay by phone webcam sex section for years now, only to discover that we've never reviewed or came across a webcam sex site paybyphonecams.com which such a name it can't not be in our phone payment webcam sex section as the name suggests paybyphonecams is a webcam sex site dedicated to bringing access to camgirls without the need of any conventional payment methods like credit cards, PayPal, wire transfers, etc. those of you who have read our other phone cam site reviews or have used such a webcam sex site before not much explanation is needed for those who have never heard about pay by phone, here's how it works. When you enter the site you can browse all webcam models, you choose a hot webcam model and after watching a usually free preview and decide to enter a private chat video chat with the model you are presented with a phone number. You simply call that number and you will be given an access code enter this code and you will have full access to the website and all webcam models, AS LONG AS YOU KEEP YOUR PHONE CONNECTED. this number is a premium number. pricing ranges from 0,60 to 2.00 euro per minute, depending on which country you're calling from. No, you don't need to make international calls every country has its own local premium number.
CAM SEX MODELS AND CATEGORIES
At the moment of this review, there are 81 webcam sex models online in 3 simple categories women, men, and transsexuals ranging in ages from 18 to 55 years of age. The site is accessible in 2 languages Dutch and English making us think it's a dutch webcam sex platform. But the cam models on the site have various nationalities and also speak various languages. the three simple gender categories are underwhelming compared to bigger webcam sex sites but with 80 models online there's really no need to categorize camgirls in multiple categories
CHEAP CAMGIRLS
as almost always is the case with pay by phone webcam sex sites pricing is cheap compared to regular adult video chat sites. like said before prices range from 0.60 to 2,00 Euro depending on the country you're in Compared to the average pricing of 2.00 USD on bigger well-known competitor's sites this is very affordable.
OTHER PAYMENT OPTIONS
Of course, you do not need to pay by phone there are different payment methods like a credit card, PayPal, ideal, mrcash, Paysafe card, etc available. The availability of payment methods depends on which country you're located in. Even pay by phone is not available for every country which is a shame. Using regular payment methods like credit card have the advantage that you'll receive free extra credits depending on how many credits you buy. This makes webcam sex even cheaper compared to the pay by phone option
WEBCAM SEX ON MOBILE PHONES, NOT SO GREAT
The biggest problem we've encountered with paybyphonecams.com is the compatibility with mobile devices we've tried it on android and iPhone and it simply works outdated compared to other webcam sex sites. You will be redirected to a confusing mobile version, the live chat stream doesn't look too great, it often detects the wrong country you are in. In short anno 2020, you cant have a site that's so badly optimized for mobile devices. Especially when you have a webcam sex site called paybyphonecams. If you are on a desktop or laptop it's amazing. If you are on a mobile phone and you want to have pay by phone access we suggest having a look at cheapercams.com?
cheapercams is in our opinion the best pay by phone webcam sex site when using mobile phones
CONCLUSION
Paybyphonecams.com is a decent webcam sex site and a with their pay by phone access a great alternative to sites like LiveJasmin, Imlive, cams where you need a credit card in most cases. Besides the average price per minute for a private webcam sex show from any camgirl is a lot cheaper on paybyphonecams.com the only downside is the average compatibility with mobile phones in our experience. If you are on a desktop or laptop and want to have webcam sex with pay by phone option paybyphonecams is great. If you are on mobile you might want to have a look at our other reviewed pay by phone cam sites