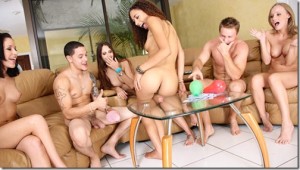 Real Live Webcam Strip Poker:
StripHiLo is created by the guys at CamContacts about 2 years ago and also runs on the CamContacts Network. The game is a result of the combination of two of men's favorite hobbies: hot striptease / webcam sex and a gambling card game: StripHiLo was born! the gameplay is quite simple but playing StripHilo is really fun! Naked girls and gambling is just a brilliant combo if you ask me. StripHiLo has become really popular and is a perfect, exciting and fun game to fill in those lonely nights!
Layout & Navigation:
The StripHiLo homepage looks nice, due to the sexy girl on the table you immediately get the feeling you just walked in some sort of sexy casino. The main navigation bar is basically the same as the CamContacts navigation. If you  are new to StripHilo you can play the demo game for free so you will understand what the game is about. If you register for free you will also have full access to CamContacts as well! Sign up for free here!
Webcam girls & Categories:
At the time of this review there were about 400 webcam girls available for StripHiLo! That's impressive! The girls are kinda divided in appearance and ethnic origin categories. There are hot hilo blondes, busty hilo brunettes, sexy hilo redheads, hilo double trouble, crazy hilo europeans, mysterious hilo asians,  passionate hilo latinas and black hilo beauties. These StripHiLo categories might seem strange at first, but are actually quite handy.
Webcam Quality & Special Features:
The webcam quality at StripHiLo is excellent, because the girls are actually CamContacts webcamgirls and luckily most amateur girls are smart enough to use a HD webcam or even camcorders with zoom capabilities. Cam2cam and audio is available, and playing StripHiLo cam2cam is much more fun because then you have to undress too if you loose! The gameplay is very simple, you play against a webcam girl opponent, and both you and you opponent have to guess the next card. Will it be higher or lower than the previous one? If you win…your hot camgirl opponent undresses until she is butt naked and at the same time warmed up for some horny webcam sex! The fact that you can play StripHiLo cam2cam with a hot camgirl makes the whole game so much more exiting, and therefor really recommendable.
Strippoker Pricing:
Webcam hosts at StripHiLo are allowed to set their own webcam rates for the game, so pricing may vary, but the prices at  StripHiLo are the same as the prices on CamContacts so the mininum rate is $0.50 per minute, which is absolutely cheap! Other girls charge a bit more but even those camgirls are still pretty cheap so the average price at StripHiLo is about $1.10 per minute! But in the end you'll always pay even when you win. Of course getting a hot chick naked with a fun game many times is worth it but it would be nice to get at least a discount when winning besides full nudity. For that reason striphilo will get an average rating
Conclusion:
StripHiLo is a brilliant game! We love it and it's unique in it's kind. Playing live strippoker with a hot babe is really fun. Just be careful, before you know it.. you are a StripHiLo addict!