With a name like cheapestwebcamsex.com, you set high expectations. There are plenty webcam sex sites claiming they are the cheapest. But pretty much all of them have prices that are comparable to other cheap webcam sex sites. Let's see how cheapestwebcamsex.com fares.
Token pricing vs actual show pricing
When looking at how expensive a webcam sex site is it is important to remember that the cost of credits (tokens) is not really that important. I see a lot of sites ranking the cheapest webcam sex sites based on the token pricing. But that doesn't tell you anything about the cost of the actual camgirls on a webcam site. A token might cost only one cent on a cam site, but if the cheapest camgirl asks 300 tokens per minute you are still paying 3 dollars per minute for a private show. So I'm looking at what the cheapest private shows to be found on a site cost to determine if a cam site is cheap or not.
For good measure, I will still mention the token pricing at the cheapestwebcamsex.com which is 1 dollar per token, or gold as the tokens are called at cheapest webcamsex.com you don't need to buy tokens first. When you register yo ad a payment method, and whenever you want to tip a model or go in private you will automatically get billed. It works great but it also has a downside. but more on that later…
Free camgirls
I'm also disregarding the free camgirl shows at cheaperwebcamsexcom when looking if it's a cheap site. When a camgirl gives a fee show it doesn't mean she doesn't get paid. It means that everyone can watch for free and they can tip tokens if they like what they see. Tipping is optional so yes you can watch for free, but free shows and private shows are a totally different beast. A private show where you can turn on your own cam and actually have some interaction with the webcam model, talk dirty, tell her what to do, and live out your dirty fantasies. These things are not really possible in free shows where 100's other horny viewers are present.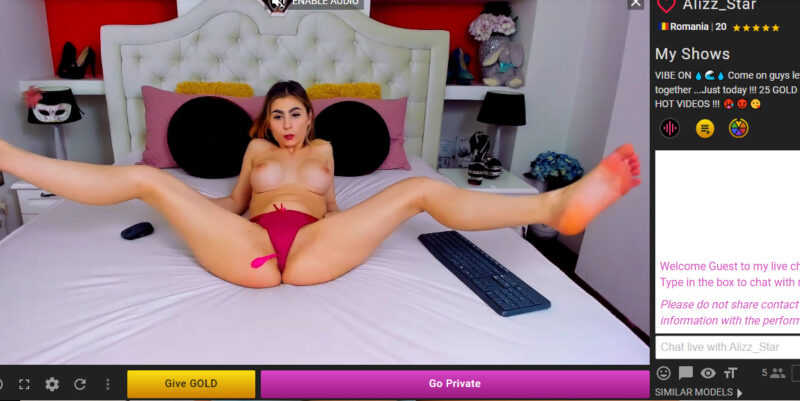 Actual cheapest private show cost
before we go into the actual private show cost there's one very important thing I have to mention. The private shows at cheapestwebcamsex.com are called exclusive chat. Yes, they also have private shows, where you get the attention, but during these private shows, other visitors can still send messages and tips to the cam model. So this is not TRUE private. Granted these shows really are some of the cheapest I have seen and it comes very close to having a private chat.
For now, I will focus on the cost of the exclusive chats for now to determine how cheap this site really is, because the exclusive chats are more expensive than the private chat, sometimes even several dollars per minute! so pay attention to this
Exclusive chat cost
Click some of the gorgeous webcam models on the main page of cheapestwebcamsex.com and it becomes clear that these featured camgirls or not cheap at all when to comes to exclusive chats. More often than not will you see prices above 5 dollars per minute. But let's not give up so easily. I am sure I can find cheaper shows than this
How to find the cheapest camgirls
When I browsed the cam models that are not on the main page but on page 2, 3, 4 I started to notice that the Exclusive chat prices started to drop. Still they were between 2 and 3 dollars which is by no means the cheapest webcam sex! I also had a look at the newest cam models because the new models usually ask less because they don't have too many regular returning visitors yet. But still around 3 dollars for an exclusive chat. with some dropping to 2 dollars. So if you want to weed out the expensive camgirls, try browsing the models that are not on the main page and also have a look at the newest models.
But exclusive chats between 2 and 3 dollars per minute don't deserve the name cheapest, yes I saw that the private shows are definitely cheap, but as I said earlier others still have the possibility to send messages to the models. not really a truly private show i my opinion. But then I discovered how to actually find the cheapest cam models and it's by searching for tags!
In the search field simply enter your preferred price for example 099 and you will see all the girls who are available for that price or at least have tagged their chat with that price. There are still a few not-so-cheap girls in these search results but it's definitely the way to find the cheapest ones. You can even go for lower prices and you will find girls who give exclusive chats for less than 50 cents. But in my case they were all online, so I don't count them.
Less than 99 cents
But I am happy to say that you can find Exclusive one-on-one chats with no other viewers or chatters for under a dollar. I still wouldn't say it's the cheapest webcam sex site. Camcontacts is still unbeaten in that department. But I think the name cheapestwebcamsex.com is somewhat justified when you take in consideration the other affordable cam show modes they have.
MOBILE CAMSEX
What I absolutely loved about cheapestwebcamsex.com is how well the site and the webcam chats work on mobile phones. Having a decent camsex chat with a webcam model on your mobile phone can be challenging, I prefer the bigger screen of a desktop or laptop. But cheapestwebcamsex.com has managed to implement mobile camsex in such a way that it's as best as it is going to get on a mobile phone or other small screen devices. Only the bare minimum content is shown, reducing the clutter on the screen. It makes really efficient use of space on smaller screens and it adjust to every screen size and ratio without any problems.
FREE ACCOUNT
Registering for an account is 100% free but you will have to add a payment method, either credit card or Paypal. And they give you the option to buy credits. That would be fine if it weren't for the fact that buying credit is presented in such a way that it looks like you are obligated to buy some credits. You are not! you can simply skip the step and enjoy the free shows if you aren't planning on paying. And if you do plan on paying, you have extremely cheap options.