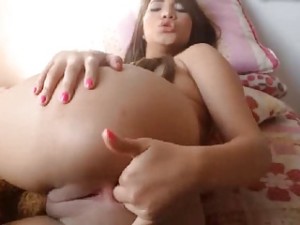 General Information:
PhoneMates is the newest desktop and mobile webcam sex solution and is optimized for the android (also 2.3) as well as iphone based systems. The platform is powered by ImLive, one of the biggest webcam sites of them all so quality is what you can expect. Like any newly build webcam site today, you can access PhoneMates at home on your desktop and enjoy webcam sex like usual, but you can also logon to your account on your iphone or android device when you're not at home and keep in touch with your favorite phonemates. To celebrate the lauch of PhoneMates there is currently a really interesting promo running, pay a one-time-fee of $1,- and get one week access to UNLIMITED live mobile peepshows. Like what you are reading? Click here to sign up
Layout & Navigation:
The desktop version of PhoneMates is pretty clean and organized. The color are kinda original, not what one would expect for a webcam sex site, but it looks very nice and it works. The navigation is pretty simple as you can see, very user friendly luckily all this is also transformed to the mobile site. If you visit the mobile PhoneMates site you instantly see the same recognizable phonemate colors and you just have to login to you existing account where you can find all main features as on the desktop version as well as using your available credits to visit your favorite phonemate or enjoy a free mobile nude show if you take the mobile sex trial and register for the $4,95 2 week trial.
Webcam Quality & Special Features:
The quality at the desktop PhoneMates is very good, and to be honest, we expected nothing less from a new webcam site. But most camgirls seem to have decent webcams. The mobile quality is far more interesting, when you visit phonemates using your mobile (iphone or android) the results are also pretty impressive! Once you get comfortable with the "small" screen you notice the site actually loads pretty fast and the mobile peepshow we tested was not only really entertaining, the video was more than ok!
Pricing information:
Pricing is obviously an interesting aspect of PhoneMates, because despite the fact that you can enjoy free mobile sexshows the in combination with the $4,95 2 week trial, we want to know what happens when your trial period ends? Answer, whatever you want, since you are a free member like any other member after the trial period, it is up to basically. You can purchase credits for desktop and mobile videochat or you just enjoy some free chat rooms. The important thing here is that there is no purchase obligation whatsoever! Rates for private (mobile) videochat vary from $0.99 to $2.99
Conclusion:
Between the number of growing mobile webcam sites, PhoneMates is in our humble opinion definitely on to watch if you are an iphone or android phone owner. The combination of desktop and mobile usage is a successful one and especially if you are new to mobile sex shows, we think the $4,95 2 week trial is a must try!